When it comes to marketing your coaching business, visual content can be a powerful tool. Creating engaging designs is essential for helping you connect with potential customers and Canva templates are an easy way to get started.

Even though Canva offers many templates for free, there are many coaches who prefer to purchase professional-grade templates for their businesses. Luckily, there are a variety of websites and resources that offer quality Canva templates at affordable prices. Here are 13 of the best places to buy Canva templates specifically designed for coaching niches:


Share this image on Pinterest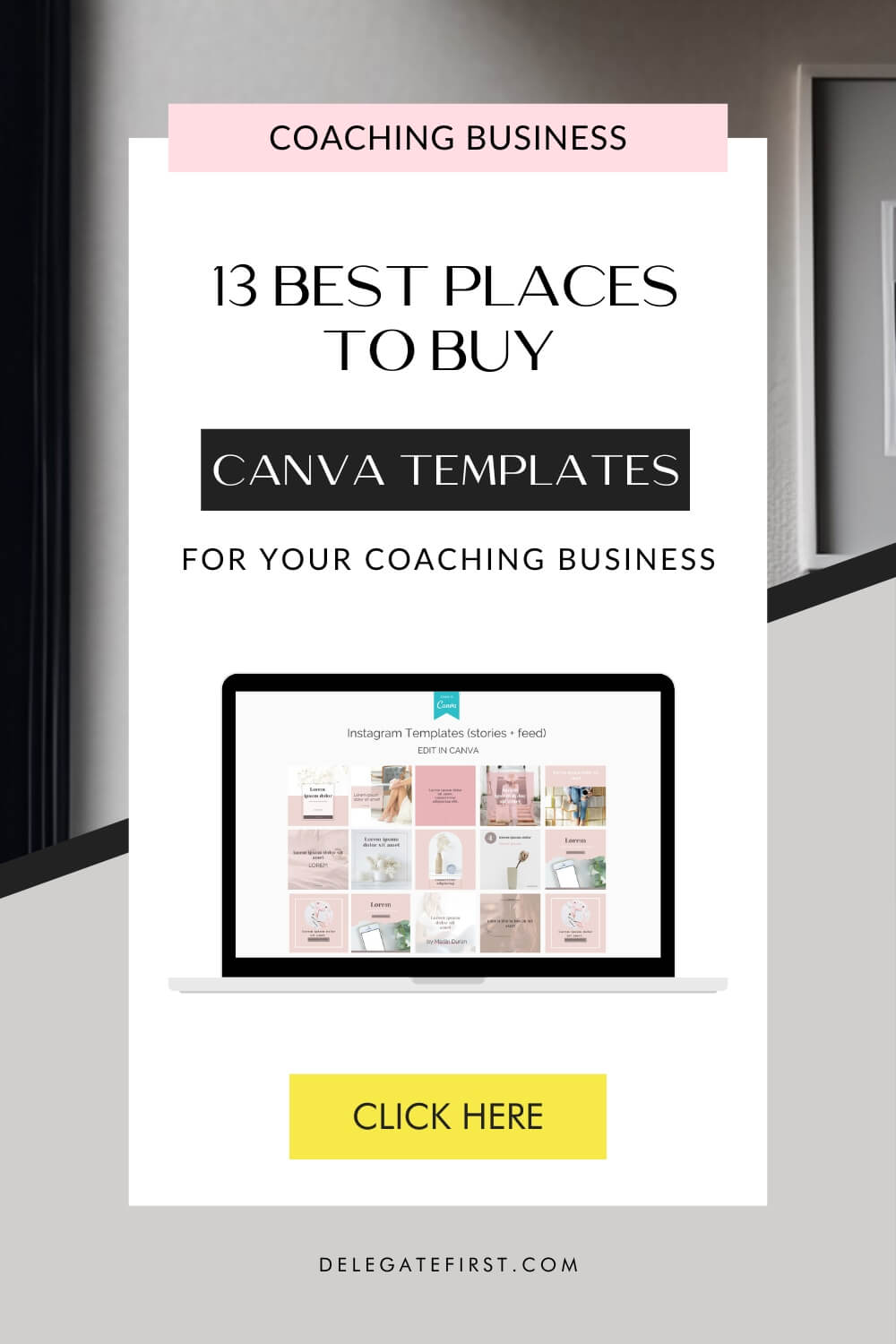 Where can I find cool Canva templates?

The first place to check for Canva templates is the official Canva marketplace. There, you'll find a variety of design themes and layouts suitable for coaches, but the selection is limited.

However, if you're looking for something a little more unique, there are plenty of other resources that offer beautifully designed Canva templates for your online coaching business. Here are the top 13:



Creative Market is another marketplace for digital products, including templates for Canva. What makes Creative Market unique is its vast selection of templates from independent designers.

Plus, Creative Market offers templates that fit any budget and can be customized with just a few clicks. So it's easy to find the right template for your online coaching business.

Here you can filter by different categories focused on your needs, such as templates for websites, emails, presentations and more.

It's important to note that since many designers use more than one website to sell their templates, you may see the same graphics on multiple sites. However, Creative Market is a great place to start if you're looking for unique and affordable Canva templates.

Pro Tip:

Creative Market also has a membership program that offers up to 20% discount on all templates. So, if you're planning to buy templates for your online coaching business, signing up for a membership could save you money in the long run.

The membership is $29.95/month, but for that price you can download up to $37 worth of design assets every month and get over $1,000 in design goods free each month. So it is definitely worth considering if you want to take full advantage of this site.




Etsy is an online marketplace where you can find a variety of creative items, including templates for Canva. You can search by category to find the right style for your coaching business.

You can also filter by star sellers, who are sellers with consistently five-star reviews from their customers. This way you know you're getting quality products.

Etsy offers templates for Canva that are suitable for a range of budgets, and you have access to thousands of reviews from past customers which can help you make your decision.
Some of the coolest templates on Etsy are:

Business Coach Start-Up Toolkit Canva Template
Over 2000 templates
Business coach canva instagram templates
Business coach canva ebook template
Business coach canva worksheet templates
It has 19 exercises (with clear instructions on how to use them) that will help you or your clients identify career opportunities, identify career matches and more.
8in1 Life Coach Bundle Welcome Client Packet Templates in Canva
100 neutral beige coach Instagram post templates
100 neutral beige coach story templates
40 coach client welcome packet A4 page templates
65 coach ebook A4 page templates
22 coach workbook A4 page templates
and more


Envato Elements is one of the first subscription services offering unlimited downloads of millions of high-quality graphic design templates & assets. On Envato Elements, subscribers have unlimited access to the full library of content

Envato Elements charges a monthly fee of $16.50 for access to an unlimited number of digital assets, such as Canva templates, video templates, presentation templates, landing pages, sound effects, fonts and more.


Lady Strategist is a website that specializes in stylish and affordable Canva templates for female entrepreneurs. Whether you're looking for something modern and bold or something softer and vintage, Ladystrategist has you covered.

Plus, Ladystrategist offers templates that are designed specifically for coaches so you can be sure that the designs are perfect for your coaching business.

You can also filter by price range and type of template, such as Lead Magnets, Webinars, Media Kit, LinkedIn and Instagram.

Last but not least, this is one of the few sites where you can find a Canva infographic template.

The membership costs $97 every three months and includes unlimited access to 9000+ Canva templates, including webinars and course decks, free support and many other features. The annual plan costs $297 and has all the same benefits.

If you are not interested in membership, you also have the option to buy templates separately.



Kerrielegend is a platform where you can find gorgeous Canva templates for coaches. The templates are modern, sophisticated and designed to make your coaching business look professional.

Here are some examples of Canva templates for coaches:

Lady coach Instagram bundle (which includes 770+ Instagram post templates, 770+
InstaStory post templates, 100 InstaStory games templates, 60 Instagram carousel post
templates and 24 insta highlight icons set)
· Plus you can see all the graphics in a YouTube video on its website.


PivotSimply has some exciting products for coaches that you should consider. It offers 88 coaching business ready-made editable Canva templates.

Some of the templates available:

Planners include daily, weekly and monthly planners, task planners, goal planners, etc.
Challenge lead magnets: 30 Days Challenge
Trackers: vision tracker, goal tracker, period tracker, etc.
Coaching tools: cognitive distortion, building confidence, the Wheel of Life, changing beliefs, etc. Valuable for your one on one coaching sessions.
And many more.

· Plus you can see all the graphics in a YouTube video on its website.


Appsumo is a website that offers discounts on digital products, including templates for Canva. Here you can find beautiful and modern templates designed by independent designers from around the world.

Plus, you can get them at discounted prices - some as low as $10. You can filter your search by category to find what you're looking for, such as templates for presentations, newsletters and more.

In addition to templates, Appsumo also offers discounts on courses and other tools you may find useful for your coaching business.


Made by Melody is a designer who creates beautiful templates, including products for coaches like you.

You will find Canva Instagram templates, Pinterest templates, eBook templates and the best part? There are free Canva templates available for you to download.

Compared to other websites, it only has a few options to choose from, but they are pretty nice and at very good prices.


Styled Stock Society is a membership-based website that provides access to a library of styled stock photos and graphics for bloggers, creative entrepreneurs and small business owners.

Moreover, the designs are modern and stylish and perfect for creating an eye-catching online presence. If you're a member, you can get exclusive discounts on all the templates.

Membership Prices

The quarterly plan costs $120 every three months with 7,000+ stock photos, customizable Canva templates, monthly caption guides, stock video clips and unlimited downloads.
The annual plan costs $360, with all the same benefits.
The agency plan costs $600 annually, with the only difference being that it has a multi-user license instead of a single-user as the previous two.


The Canva Template Shop is a great place to find graphics for your online coaching business.

The Canva Template Shop offers several products for coaches, including customizable templates for social media graphics, checklists, workbooks and marketing materials.

These templates are designed to support coaches in building their brands, promoting their services and engaging with their clients.




Social Media Calendar is a website that offers Canva templates designed specifically for social media. Here you can find beautiful templates suitable for any platform, including Instagram, Facebook, LinkedIn and Pinterest.

Plus, the templates are designed with a focus on engagement and can be easily customized with your branding. Some include life-changing questions, transformational quotes, tips and many other options.

Another benefit is that you can get 10% off on your first order.

Key characteristics:

If you are a nutrition coach, you will want to check the ALL-IN-ONE Nutrition Coach´s Toolbox with 100 social media templates, calendars, 5 ready-made blog articles, 5 ready-made emails for nutrition professionals and many other products focused on Nutrition Professionals. You can improve your coaching experience significantly with little effort using these templates.

Social Media Calendar also has the Real Estate category. If you are a realtor coach looking for templates regarding this niche, this is the right place. With these you can create everything from infographics to social media ads. You can even share this source of helpful designs and tools with your coaching clients, so they can also take advantage of them.

They also have an email marketing kit for real estate agents, so take the time to explore the site and find the template that best fits your needs. You'll be glad you did!


Pinterest is a great source of Canva templates. You can search for terms such as "Canva templates" or "coaching business templates" and get a variety of options that are both free and paid-for.

The great thing about Pinterest is that you can see the designs right away, so it helps you make an informed decision. Furthermore, there are so many different styles that you're sure to find something suitable for your coaching niche.

The only downside is that it can be quite challenging to apply filters, check prices and see everything included in one product from a Pinterest view. You will always need to navigate to the related website for more information.

However, as with any other search engine, it can bring you information that is not what you wanted. Therefore, always double-check the reviews and information of each template before buying it.


Finally, if you are a meticulous coach looking for professional and unique designs made just for you and your coaching niche, Canva expert freelancers will help you to meet your objectives.

All kinds of designers are ready to work on what you are looking for. You only need to search for them on some of the most popular freelancer platforms like Fiverr, Upwork, Guru, Growthcollective and more.

You can also buy some templates from some of the sites mentioned above and hire a virtual assistant to work with them on a regular basis and customize the designs a bit more for your target audience. This way you will have an eye-catching online presence that is tailored specifically for your ideal customer.

So there you have it – a few great places to find Canva templates for your online coaching business. Take the time to explore each one and find the template that best fits your needs and goals. Good luck!

P.S. This article has affiliate links which means we may receive a small commission at no extra cost to you if you decide to purchase through our links.
Share this image on Pinterest