As a business coach or consultant, you're always looking for ways to free up time and maximize your productivity. That's where a virtual assistant can come in handy. A virtual assistant for coaches can help with all sorts of tasks, from scheduling appointments to content creation.
In this article, we will explore 127 tasks that you as a coach can delegate effectively to a virtual assistant.
Virtual assistant tasks you should consider outsourcing
Marketing Tasks
As a business owner, marketing is a fundamental aspect that drives the visibility of your brand, brings in potential leads, and essentially, ensures the growth and sustainability of your business.
Let's explore how delegating tasks to a virtual assistant can help you manage your marketing activities more effectively.


Lead Generation
Lead generation is the lifeblood of any business, directly influencing the money you make and your ability to achieve your financial goals. With the immense potential of the digital landscape, a virtual assistant can support you in implementing effective lead generation strategies.
This may include conducting market research, identifying potential clients, initiating contact, and nurturing these leads until they convert into paying customers. With the right approach to lead generation, your business can generate a steady stream of income, helping you achieve your financial objectives and grow your business.
They can also help you create and manage lead magnets, such as e-books or pdf's, to attract potential clients to your website or social media pages.
---
Share this image on Pinterest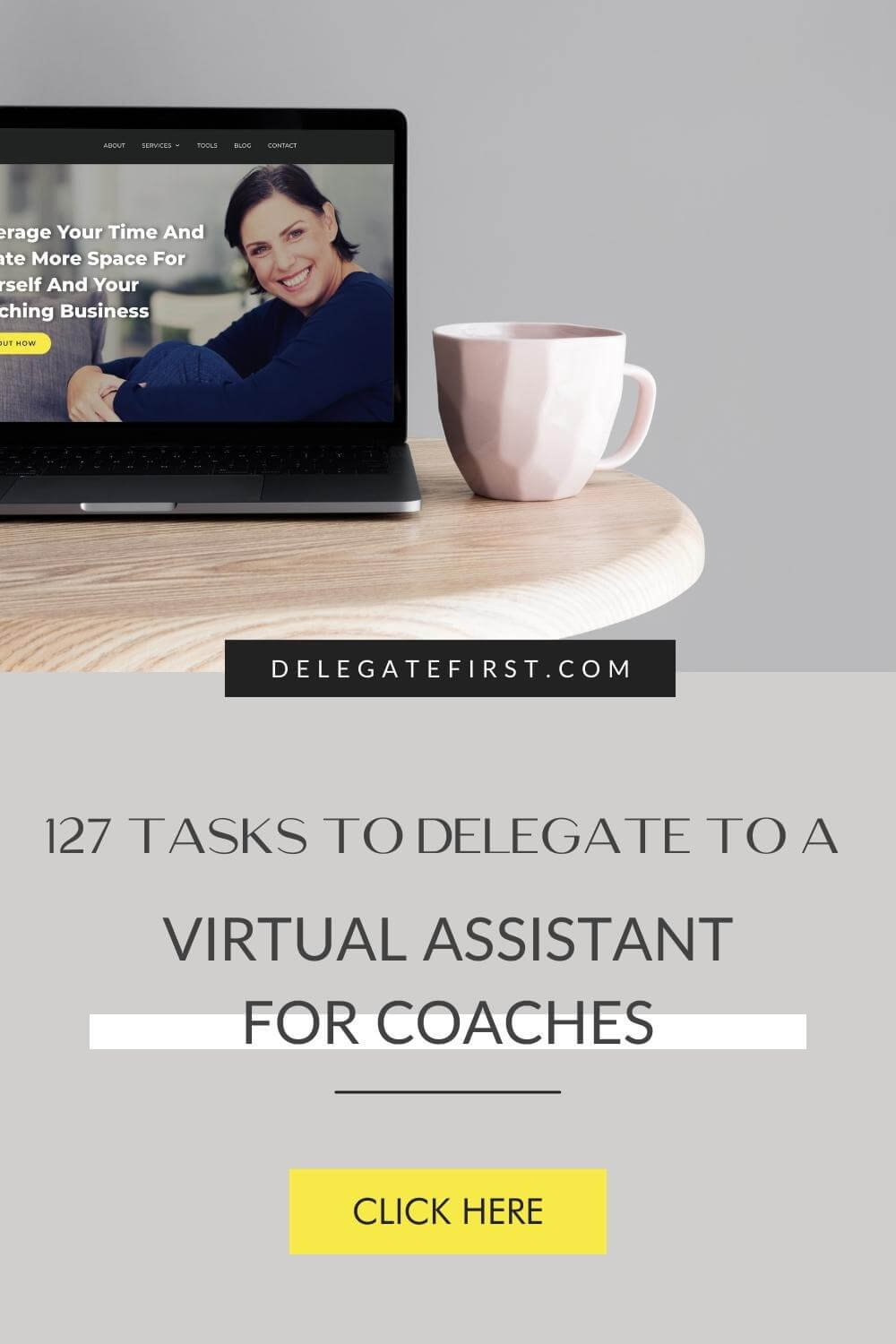 ---
Sales Funnel Management
A sales funnel is essential to making the most of your lead generation efforts. It's a process that helps you turn leads into conversions, so it needs to be managed well for optimum success. A virtual assistant can help you with this by:
Creating campaigns, ads and landing pages

Analyzing data to identify opportunities for improvement

Developing strategies to optimize the current sales funnel

Automating processes and tasks to reduce workload.


Appointment setting
Appointment setting allows you to interact with leads and prospects one-on-one, answer their questions, understand their needs better and ultimately convert them into paying customers.
A virtual assistant for coaches can help make this process easier by:
Contacting leads via email, DM, or other communication channels

Qualifying leads and setting up appointments with prospects

Scheduling calls and meetings with you or your sales team

Following up on leads to ensure they show up for the scheduled appointment.

Developing compelling scripts to engage leads and drive conversions.
---
SEO Optimization
Search engine optimization (SEO) is essential for any business that wants to be found online.
A virtual assistant can support your SEO efforts by:
Researching relevant keywords and incorporating them into content

Adding meta descriptions and titles to content

Optimizing images for better search engine performance

Updating and optimizing existing content on the website.

Working with developers to ensure that technical SEO is carried out correctly.

Compiling and analyzing performance data to identify areas of improvement.


Pinterest Management
Pinterest Marketing has been identified as a powerful tool for small businesses looking to drive visibility and increase their reach.
A virtual assistant can help you manage your Pinterest presence more effectively by:
Setting up a Pinterest business account

Creating attractive pins with relevant keywords

Optimizing pin descriptions, titles, and boards

Posting regularly on boards of relevance

Creating attractive boards to draw in viewers.

Analyzing data to identify trends and opportunities for improvement.
---
Graphic Design
From creating visuals for social media posts to designing website banners and brochures, having the right graphics is essential if you want to get your message across. A virtual assistant can help you with this by:
Creating eye-catching visuals for various platforms

Optimizing images for different devices

Developing creative concepts based on brand guidelines.

Utilizing design software such as Adobe Photoshop, InDesign, and Illustrator.

Collaborating with other designers and developers to ensure the brand message is communicated effectively.


Website Support
Your website is the first point of contact for your potential customers. Ensuring that it is easy to navigate, informative and visually appealing can be the difference between a customer converting or leaving your site.
A virtual assistant can help you maintain and update your website by:
Adding new pages and content to keep it up to date

Reviewing code to ensure it is optimized for performance

Ensuring that all content is free from errors and typos.

Optimizing images and visuals to improve loading time.

Testing the website to identify bugs and fix them promptly.

Creating lead forms and landing pages to promote your business coaching services or any new course

Run A/B tests to optimize the website for better conversions.


Content Creation Tasks
Content creation is a critical aspect of any coaching business. It allows you to share your expertise, engage with your audience, and build your brand.
Let's explore some of the content creation tasks you can outsource to a virtual assistant.


Blog Writing
A virtual assistant can help you research topics, write articles and blog posts, and publish them on your website. They can also help you optimize the content for SEO to ensure it reaches the right audience.
Some of the specific tasks a virtual assistant can perform in this domain include:
Conducting keyword research to identify topics that resonate with your audience
Outlining and drafting blog posts
Drafting engaging and informative articles or blog posts
Incorporating SEO strategies, such as keyword optimization and internal linking
Editing and proofreading posts
Formatting and publishing posts on your website
Updating old posts with new information or improved SEO.


Social Media Management
Social media is another important component of any business or coaching practice. A virtual assistant can help you manage your social media accounts and optimize your posts for maximum reach and engagement.
Some tasks a virtual assistant can help with in this domain include:
Creating and scheduling posts on social media platforms
Optimizing content for each platform you use
Growing your following by engaging with followers
Answering questions and responding to comments
Monitoring conversations about your brand or industry.


Video Production
Video content is becoming increasingly popular, and it can be a great way to engage with your audience. A virtual assistant can help you produce high-quality videos for your coaching business.
Here are some of the tasks that a virtual assistant can support you with:
Researching topics and developing storylines

Writing scripts for videos

Editing audio and video footage

Designing or creating graphics for videos

Publishing videos on appropriate media channels.

Adding graphics, music, and other elements to create a polished video.


Podcast Management
Podcasts are a powerful tool to share your insights, connect with your audience, and drive business success. As a business coach, having your own podcast can give you a unique platform to share your knowledge, engage in meaningful dialogues, and inspire others. However, managing a podcast requires a lot of effort.
A virtual assistant can help lighten the load by:
Recording or transcribing audio files

Researching and booking guests

Drafting emails for guest outreach

Editing and publishing podcasts on social media or other platforms

Uploading and publishing episodes


Email Marketing
Email marketing is a powerful tool for achieving significant business results.
Let's explore how a virtual assistant can support your email marketing efforts, making this potent channel more manageable and effective for your business.
Creating and designing email templates

Writing compelling copy for emails

Segmenting your list into targeted groups

Scheduling and sending emails

Monitoring email analytics to measure performance.

Adding new contacts to your list and keeping it updated

Building email automation sequences.
Want to know some email marketing platforms you can use for your coaching business? Check out this post: 12 Best Email Marketing Platforms for Your Coaching Business


YouTube Support
YouTube is an indispensable tool for small business owners looking to expand their reach and engage with their audience in a dynamic way. As a visual platform, it offers an excellent opportunity to showcase your small business coaching services and brand personality.
Let's dive into how a virtual assistant can help manage your YouTube channel, alleviate the workload, and improve your video efforts.
Creating thumbnails for videos

Writing captions and descriptions for videos

Uploading and scheduling videos

Monitoring views, likes, and comments

Engaging with your audience on YouTube

Researching and optimizing keywords for videos.




Project Management Tasks
As a business coach, you have a lot on your plate, and managing strategic projects can be time-consuming. Here are some project management tasks that you can delegate to your virtual assistant:


Team Management
Your virtual assistant can help you manage your team by:
Scheduling team meetings and sending out reminders

Coordinating communication between team members

Managing team calendars and schedules

Tracking team progress and deadlines

Providing reports on team performance


Project Planning and Organization
Your virtual assistant can help you plan and organize your projects by:
Creating project timelines and schedules

Setting project goals and objectives

Assigning tasks to team members

Tracking project progress and milestones

Providing reports on project status and performance


Task Delegation and Follow-up
Your virtual assistant can help you delegate tasks and follow up on them by:
Creating task lists and assigning tasks to team members

Monitoring progress on assigned tasks

Following up with team members on the status of their tasks

Setting deadlines and reminders for tasks

Providing feedback and support to ensure task completion.


Administrative Tasks


Calendar Management
One of the most time-consuming administrative tasks for coaches is managing their calendars. You need to schedule appointments, meetings, and events, and keep track of all the details.
A virtual assistant for coaches can help you manage your calendar by:
Scheduling appointments and meetings on your behalf
Rescheduling appointments when necessary
Sending reminders to you and your clients
Keeping your calendar up-to-date
---
Email Management
Another essential area where a virtual assistant can be of tremendous help is in managing your email. As a business coach, you probably receive a plethora of emails on a daily basis. Sorting through them, responding, and keeping your inbox organized can be a daunting task.
Let's delve into how a virtual assistant can help streamline your email management.
Sorting your emails into appropriate folders for easy access

Responding to client inquiries on your behalf

Following up on leads

Filtering your inbox to prioritize important emails

Deleting spam and junk mail

Drafting emails and sending them on your behalf


Data Entry
Data entry is another administrative task that can be quite tedious and time-consuming. Yet, it's crucial for maintaining accurate records and facilitating your business operations.
This is where a virtual assistant can make your life easier:
Inputting customer details into a database or spreadsheet

Keeping track of client records and notes

Generating reports and graphs for analysis

Creating and updating spreadsheets

Uploading contacts into databases, spreadsheets, or company CRM

Inputting data from surveys, questionnaires, and other sources into spreadsheets.

Keeping digital records of your financial transactions, uploading receipts and invoices


Bookkeeping
Bookkeeping is often a pain point for many business coaches. It can be detail-oriented, time-consuming, and daunting for a professional whose expertise lies elsewhere. However, financial record maintenance and timely invoicing are crucial to the overall health of your small business.
Let's explore how a bookkeeper virtual assistant can support you in managing your bookkeeping tasks effectively.
Keeping track of payments and invoices

Preparing financial reports such as balance sheets, profit and loss and cash flow

Reconciling expenses with income statements

Analyzing financial data to identify trends and areas for improvement

Creating and sending invoices on your behalf

Keeping track of all expenses and income
---


Client Management Tasks
As a business coach, managing your clients is a crucial part of your business. Here are some client management tasks that you can delegate to a virtual assistant:


Onboarding New Clients
A virtual assistant can help you with onboarding new clients by:
Creating welcome packets

Sending welcome emails to introduce them to your services

Scheduling initial consultations and appointments

Setting up client profiles in relevant software systems

Collecting customer information for future marketing campaigns

Creating tailored resources, such as customized workbooks or personalized videos.

Sending out follow-up emails and surveys to collect feedback.


Client Communication
Staying in touch with your clients is essential for any coaching business. A virtual assistant can help you manage client communication by:
Sending out email newsletters and promotional material

Responding to customer queries

Scheduling calls or meetings

Following up with clients on a regular basis

Developing automated emails and messages to streamline communication

Writing thank you notes and personalized messages.


Invoicing and Payment Tracking
It is important to stay on top of invoicing and payments in order to keep your business running smoothly. A virtual assistant can help you with this by:
Sending out invoices and keeping track of payments

Setting up automated payment reminders

Chasing unpaid invoices as needed

Tracking expenses for tax filing.

Creating reports to monitor the financial performance of your business.

Keeping client records up to date with accurate payment information.
Now that you've seen some of the tasks that you can delegate to your virtual assistant, it's time to start taking advantage of all the time and money you can save by outsourcing these tasks.
With the right person in place, you can focus on what really matters: growing your business and helping your clients achieve their goals. Start exploring the possibilities today with the help of Delegate First.
Share this image on Pinterest