As a business coach, you're always looking for new tools to help you work more efficiently and get better results for your clients. AppSumo is an amazing marketplace that can help you do just that.

With AppSumo, you'll have access to exclusive discounts and promotions on hundreds of top digital products and services. Plus, they offer a 60-day refund policy on all of their products and an incredible lifetime access that means you only pay once, no matter how often you use the products.

In this post, we'll explain what AppSumo is, how it works, and the benefits of using this marketplace for your coaching business.
What is AppSumo and how does it work?
AppSumo is an online marketplace that offers highly discounted deals on software tools, templates, courses, and other resources that can help you grow your coaching business.

One of the main advantages AppSumo offers is that most of the tools come with lifetime access, so you only have to pay once and not every month.

This makes AppSumo an incredibly cost-effective way to obtain the tools and resources you need for your business. They also offer a 60-day refund policy on all of their products. So if you're not happy with a product, you can easily get your money back.


How to use AppSumo
They have a wide range of options for you to choose from, so it could be difficult to know where to start. The best way to get the most out of AppSumo is to take the time to browse through all the available products and read reviews before making any purchases.

You can also follow AppSumo on their newsletters to receive notifications when new and more deals become available.

When you find a deal that interests you, click on it for more information. AppSumo will show you everything you need to know about the product, including a full description and customer reviews.

You can purchase the product by clicking the "Buy Now" button. You will be taken to AppSumo's checkout page to enter your payment information. AppSumo will then provide you with a unique code that you can use to redeem the product.

Save this image on Pinterest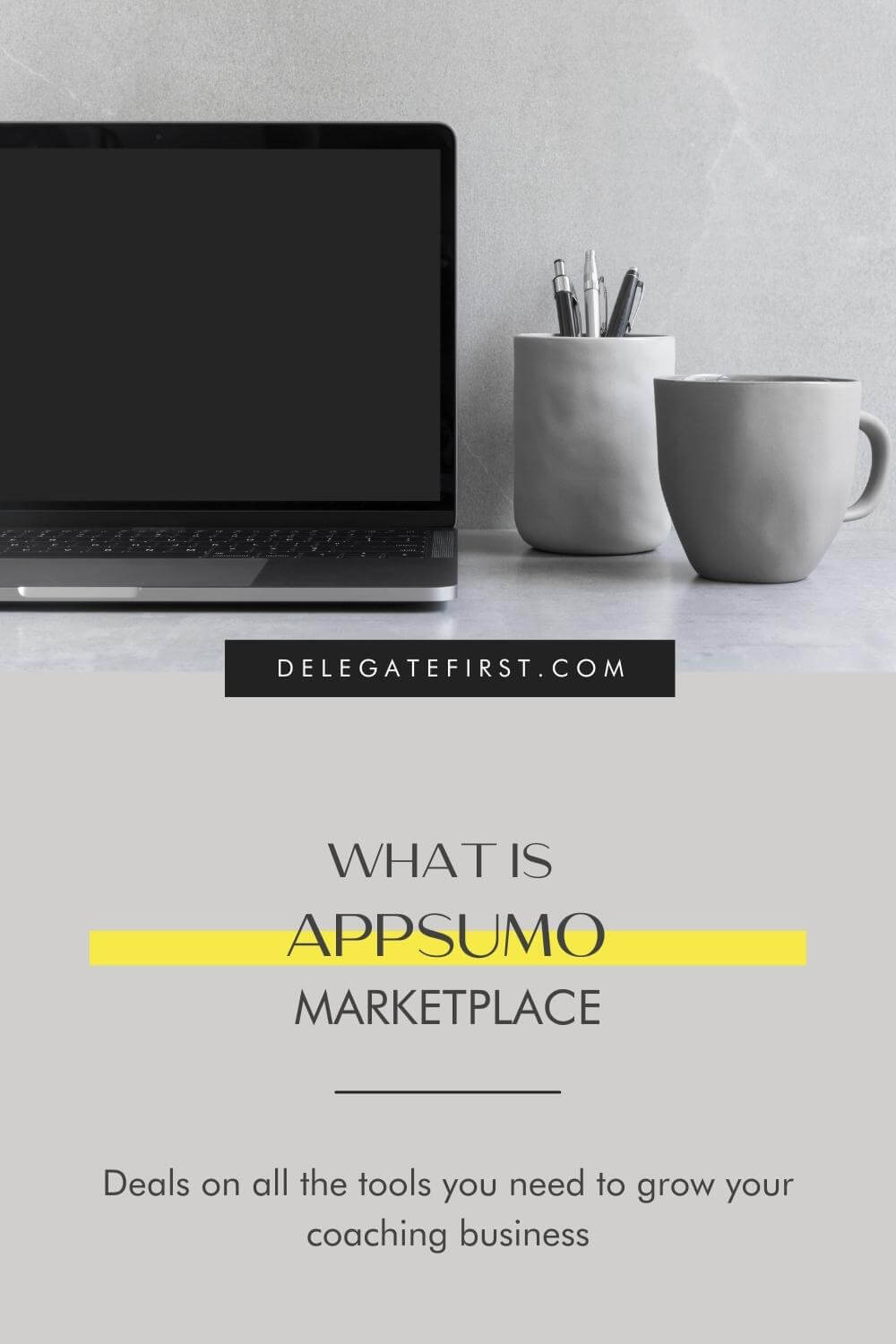 The Benefits of AppSumo for Coaches
There are a lot of tools on AppSumo that can help coaches with their business, such as email marketing tools, project management software, course creation programs, video editing tools, webinar software, platforms to manage your coaching business, and more.

They also have a wide selection of templates that can help you save time and get organized.

Using this platform for your coaching business will help you save time and money, while also giving you access to top tools and resources that will help you reach your goals faster.




What kind of tools can you buy in Appsumo?
They offer a wide range of software products, including:

WordPress themes

WordPress plugins

Graphic design tools

Social media management tools

Email marketing tools

Online courses

Calendar management tools

Video design and editing tools

Web development tools

Ai tools

CRM's

Templates

Web security and online security

SEO tools

Podcasts tools

And more!




Products in AppSumo by category
There are dozens of categories to choose from, including apps, app bundles and deals, freebies, app themes and plugins, business growth and software tools.

The following are some of their most popular categories:



Operations
You can find deals on products to help with your calendar and scheduling, email management, HR needs, Legal documents, productivity, project management and remote collaboration.


Marketing & Sales

If you're looking for deals on products to help with your content marketing, CRM, ecommerce, email marketing, lead generation, marketing management, sales management, SEO, SMS, social media, social proof, webinars and streaming, AppSumo is a great place to look.


Build it yourself

Whether you are looking to build a community, a course, a form, a native app, or a website, you will find deals here.



Media tools

If you need deals on audio, video or image tools, AppSumo is a great place to look. You can find deals on products for audio and sound effects, design assets, fonts and typography, graphic design, logo design, mockups, photos and stock images, presentation templates, video editing & production and more.




Finance
You can find deals on products to help with your invoicing, accounting, Crypto, financial analytics, investing and personal finance.




Development & IT

There are plenty of deals on products for Developers & IT professionals, including deals on Augmented reality / VR, cloud services & hosting, development tools, privacy and security, website analytics, password managers and more.




Customer experience

In the customer experience category, you will find deals on customer onboarding to help you deliver great customer experience to your potential clients, such as customer support, feedback management, survey software, user testing and more.



The AppSumo marketplace also offers a wide variety of deals on software products that can help small businesses of all types and sizes with their business needs.




Best AppSumo Lifetime Deals for your Coaching Business
AppSumo offers a wide selection of products with lifetime deals. Here are some of the best lifetime deals in 2023: (please note that they frequently changes their lifetime deals, so some of the deals in this post may no longer be available by the time you read this. So be sure to check their website for the most up-to-date deals)

P.S. This article has affiliate links which means we may receive a small commission at no extra cost to you if you decide to purchase through our links.


Mastera

This tool allows you to create and manage your own online teaching platform. With Mastera, you can teach live classes to your customers online, accept bookings, manage class rosters and waitlists, integrate seamlessly with Zoom for virtual classes with auto-sync of links, design a branded white-labeled website for a seamless experience with embeddable widgets for appointments and videos, and create flexible plans to bundle by content type, as well as one-time and recurring payments.

Mastera is currently available for $89 (1 year deal).

You can find this deal here


Vivomeetings

Vivomeetings is a cloud-based communication platform that offers video, voice, chat and content sharing. Vivomeetings offers video conferencing services to consumers, enterprises, and educational institutions.

The cost of Vivomeetings is currently $72 (lifetime access).

You can find this deal here


FlexClip

If you're looking for an all-in-one web tool to create professional-looking videos, movies and slideshows in minutes then FlexClip is the perfect AppSumo lifetime deal for your coaching business.

FlexClip offers a powerful editing platform, easy-to-use storyboard and large selection of stock images, videos and music.

FlexClip is currently available for $69 (lifetime access).

You can find this deal here


TidyCal

TidyCal allows you to optimize your schedule with custom booking pages and calendar integrations. With TidyCal's API and Zapier integrations, you can tap into tons of tools that streamline your scheduling process.

This is a great alternative to calendly and it's currently available for $29 (lifetime access).

You can find this deal here


RecordJoy

You can use RecordJoy to create high quality screen recordings. You can record your screen, voice, and face with RecordJoy very quickly and easily, making the AppSumo lifetime deal essential for your coaching business.

RecordJoy is currently available for $59 (lifetime access).

You can find this deal here


How lifetime deals work
AppSumo lifetime deals are time-sensitive deals where you pay a one-time fee to gain access to a product or service for life. These deals are usually offered and available for a limited time.

Once you purchase one of these deals, you will have lifetime access to the product or service for as long as it exists.



What is AppSumo Plus?
AppSumo Plus is a yearly subscription that gives you access to their best deals, early access to deals and exclusive AppSumo Plus-only deals.

With AppSumo Plus, you'll get:

10% off the price of the product

Early access to AppSumo deals


Exclusive AppSumo Plus-only deals



The price of AppSumo Plus is $99 per year. In addition, once you purchase it, you will also have access to The Sauce, a community where you can connect with other entrepreneurs and receive advice and tips on running your small business.



AppSumo Refund Policy
AppSumo offers a 60-day refund policy on all of its products. So if you're not happy with a product, you can easily get your money back.

To request a refund, simply contact the support team and they will process the refund for you. Please note that the refund policy does not apply to digital products such as ebooks or templates.



Is AppSumo worth it?
Having used AppSumo for over a year now, we've found it to be incredibly helpful. In fact, it has helped us save money on software and templates that we would otherwise have had to pay full price for.

If you're not sure whether AppSumo is for you, we recommend signing up for their email list so you can see the types of deals they offer. They also has a YouTube channel where they showcase some of their products.

We hope you found this review helpful. If you have any questions, feel free to leave a comment below.

Save this image on Pinterest