If you're a business coach, you know that managing projects is essential. Fortunately, there are now a variety of project management apps designed to make your job easier.


Here's our list of the top 10 project management software tools for business coaches:

1. Monday
2. Slack
3. Asana
4. Clickup
5. Trello
6. Basecamp
7. Notion
8. Airtable
9. TodoIst
10. Zoho Projects
Let's take a quick look at each of these apps!
Share this image on Pinterest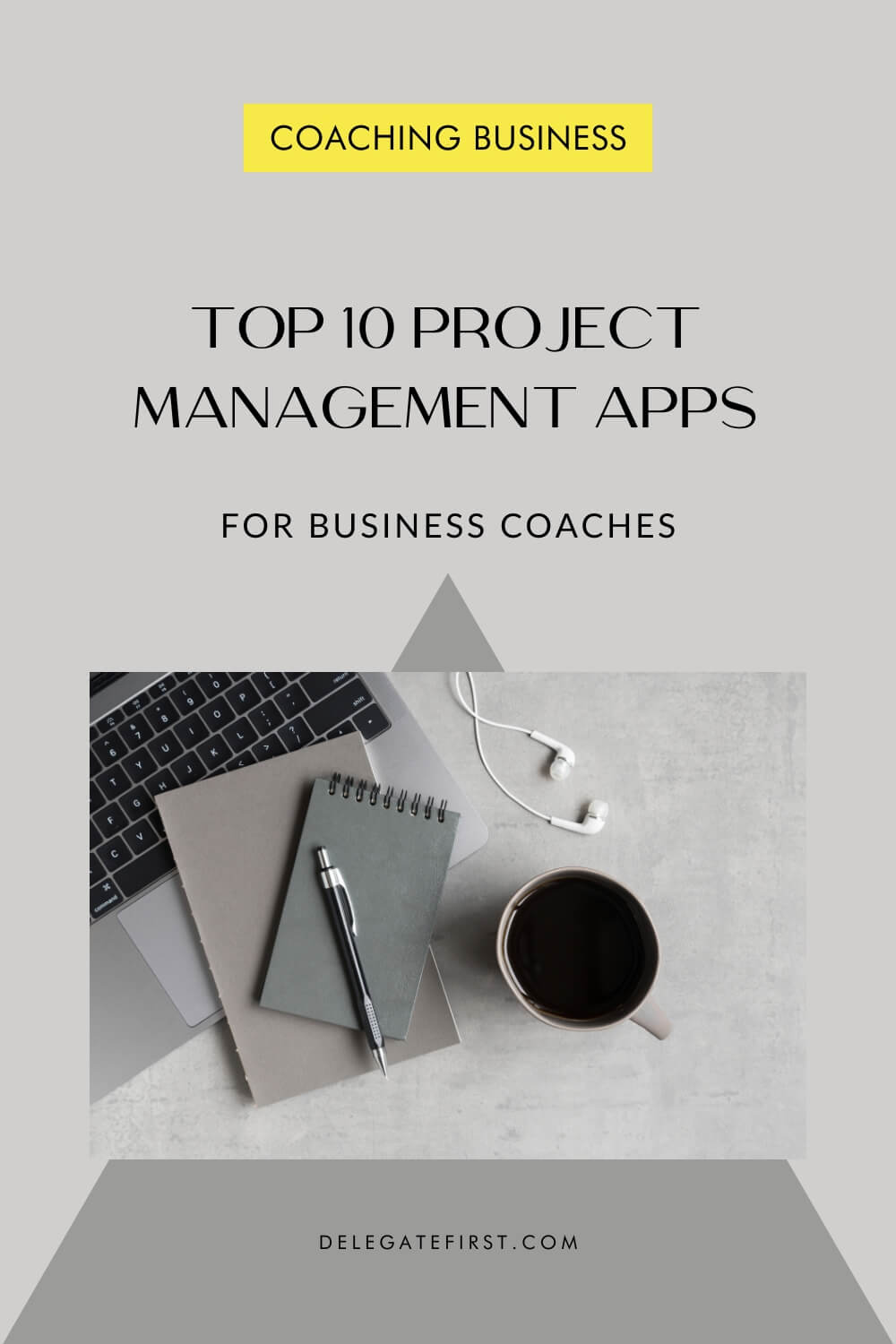 The best project management tools for coaches



This cloud-based project management app is the perfect choice for business coaches who want to stay organized and up-to-date on all their projects. Monday helps you share a project's status, assign tasks to team members and clients, manage deadlines, store files and track the project's progress.

With Monday, you can track your progress on multiple projects simultaneously, set reminders for key tasks and access your dashboard from any device. This means you can stay on top of your coaching business no matter where you are, and you will never miss an important deadline or meeting again.

Another benefit of using Monday for your coaching business is the ability to collaborate with clients and team members. You can invite members of your team or clients to join your boards, assign tasks to them and monitor their progress in real-time. This allows you to keep everyone on the same page and ensure that projects are completed on time and to a high standard.

In short, Monday is an incredibly useful tool for coaches who want to stay organized, focused, and on top of their game. It provides a range of features that make it the perfect partner for managing your coaching business and ensures that you can achieve your goals with confidence and ease.


Some of the key features of Monday include:
Task management & workflows
Advanced reports & dashboards
Automatic notifications
File sharing & storage
Automated workflows.
Real time collaboration & comments
Dashboards & reports.
It's also packed with integration options so you can easily connect it to tools such as Google Drive, Dropbox, Zoom, Microsoft teams, Outlook, LinkedIn, Zapier and more.
Slack is an intuitive and popular communication platform that streamlines team collaboration. It allows you to set up channels for different topics, create to-do lists and share files with your team members.

Even though it is not a task management tool, Slack can be an invaluable tool for coaches to stay connected with their team (or even clients) in a fast-paced environment.


Some of the key features of Slack include:
Communication and collaboration: Slack provides a platform to communicate with team members, clients and other people in real-time. The platform offers chat, calls, video conferencing and screen sharing to help you engage with your clients and work better with your team members.


Team management and productivity: Slack offers various third-party integrations with project management tools, calendars and file-sharing services. As a coach, you can use these tools to manage your teams better and boost your productivity. You can also automate routine tasks using Slack's workflow builder to streamline your operations.


Improved client engagement: By using Slack, you can stay connected with your clients in real-time, which can lead to improved engagement and help build stronger relationships. You can also use Slack to send reminders and updates so your clients are always up-to-date.


Project management: You can create channels for each client to manage their projects separately so you can provide feedback on specific tasks as well as track their progress.

Additionally, creating public channels to send news and updates to your clients can be highly beneficial. By sharing updates and important information with all your clients at once, you ensure that everyone is on the same page and no-one is left out.

By sharing industry news and updates with your clients, you demonstrate your expertise and knowledge in the field. This can help establish trust and credibility with your clients and position your company as a thought leader in the coaching industry.


Scheduling: You can integrate Slack with a scheduling tool to easily schedule appointments and meetings with your clients.


Integrations with other apps and services, such as Zoom, Google Calendar and many more.

Some coaches have even used Slack to build communities with their potential clients, offering a more private space than platforms like Facebook groups.


As a coach, using Asana can greatly benefit your business. Firstly, it allows you to easily manage your tasks and stay organized. With Asana's task tracking system, you can quickly assign and track progress on projects, prioritize urgent tasks and keep track of deadlines—all in one place


Some of the key features of Asana include:
Create projects and milestones
Assign & track tasks
Filter projects
Task dependencies & subtasks
Prioritize workflows
Collaborate with team members
Automated email notifications.
Reporting & analytics
App integrations (some examples include Microsoft Teams, Google Drive, Vimeo, Canva, YouTube, Loom, Dropbox, Pipedrive and many more).
If you have a virtual assistant or sub-contractors, Asana makes it easy to delegate tasks and keep track of progress. Asana also has a mobile app so you can stay up to date on your projects and recurring tasks no matter where you are.




ClickUp is a comprehensive project management app that is designed to help you visualize and manage your projects quickly and easily. It's a great choice for coaches who have multiple ongoing projects and need to keep the entire team on track.


Some of the key features of Clickup include:
Multiple views.
Gantt charts
Task and time tracking
Customizable workflows
Event management
Automation rules
Collaboration tools.
Templates.
Integration power (ClickUp can be connected to 1000+ tools - for free)
Mobile app.
Clickup university (for learning how to use the tool).


Trello is a popular project management app that has been around for several years. It offers an intuitive card-based interface that makes it easy to assign tasks, set deadlines and track progress.


Some of the key features of Trello include:
Customizable boards & cards
Real-time collaboration & comments
Task prioritization & checklists
Automated notifications
Automated workflows.
Integrations with other tools, such as Zoom, Google Calendar and more.
This project management tool also, allows you to quickly manage multiple projects at once and keep your team accountable.
Disclaimer: This article has affiliate links which means we may receive a small commission at no extra cost to you if you decide to purchase through our links.


Basecamp is an easy-to-use project management app with a straightforward dashboard for your coaching projects, assignments and schedule.

The collaboration features help you to enhance accountability with your clients and team members, improve communication and have transparency within your project.

Basecamp is equipped with the common tools necessary for setting up schedules and project planning, uploading documents and the best part, it is chat-enabled. As a result, your members can communicate with each other and you can also maintain conversations with your clients.
In addition, the main page is visually pleasing because it uses icons instead of linear lists. You cannot go wrong with this project management solution for your coaching business since it is intentionally simple by design.


As a coach, using Notion can provide you with several benefits that can greatly improve your business. First of all, with Notion's versatile features you can easily organize your tasks, goals, and plans all in one place. Whether you need to create a to-do list for the day or track your progress towards a long-term goal, Notion allows you to do it all efficiently and effectively.

In addition, Notion provides a seamless way to collaborate and communicate with your clients. With the platform's built-in sharing capabilities, you can easily share information, documents, and notes with your clients, whether you need to share feedback or provide them with resources.

One of the major perks of Notion is its customization capabilities. You can create customized dashboards for each of your clients with the information they need, making it easy to personalize your approach to meeting their unique needs. You can also create templates for your coaching sessions, saving you time and effort every time you meet with your clients.

Notion also provides a centralized platform to manage all your planning, scheduling and tracking needs. You can easily manage your appointments, schedule meetings and track progress, all in one place. And with the ability to sync with other tools you may be using, Notion offers an integrated solution for a wide range of business needs.


Some of the advanced features of Notion include:
Real-time collaboration
Customizable permissions
API integrations (such as Slack, Jira, Slack, GitHub, and more)
Gantt charts, kanban board & calendar views
Manage projects and tasks.
Build a wiki for your company / internal knowledge base
Beautiful notes & docs
Easy drag & drop editing
Full functionality on mobile app
Notion is also simple to set up and easy to use, making it a great choice for busy coaches who want to keep their teams connected and productive.




Airtable is a great project management software created to build a seamless integration between all your different data sources, team members and your coaching clients.

The tool allows you to create your own organizational databases, bringing together information from different sources in an easy and synchronized way.

You can visualize flexible checklists plus track resources, events and projects based on your business priorities and needs.

It has attractive built-in automation options that simplify team collaboration. Some coaches use this tool to track their record leads, monitor and plan social media content and more.


Todoist was founded on the idea of simplicity, and its intuitive design makes it easy to manage tasks and stay organized. It has a simple-to-use interface that makes it easy to assign and prioritize tasks, set deadlines, and track progress.


Some of the features of Todoist include:
Create & organize projects.
Assign & prioritize tasks.
Collaborate with team members.
Real-time notifications.
Integrations with Slack, Microsoft Teams, Jira, Trello, Evernote, Google Calendar, Zapier and more.
Some of the templates available with Todoist include project tracker, accounting tasks, client management, content pipeline, event planning, sales pipeline, social media calendar, youtube video, appointments and more.

You can also combine your most important task views in one list like the example below:


Zoho Projects is a tool designed for managing projects effectively. It provides users with the ability to plan, track and collaborate with ease.

You can use Gantt charts on this platform. This is a helpful feature where you can build your project plan and track its progress. Plus it immediately shows you any deviations between your plans and your actual outcomes.

There is a wide range of workflows available, depending on what you need. With its straightforward drag-and-drop interface, you can automate repetitive tasks such as sending emails to your team members in a snap.

Additionally, Zoho Project has built-in integration with Zoho-Invoice, so you can connect your timesheet tracking with this feature to automatically generate invoices for your team members.

Choosing The Best Project Management App For Your Coaching Business


When it comes to choosing the best project management software for your coaching business, it's important to consider your unique needs.

Think about the type of projects you want to manage, how many people are on your team and what sort of integrations you need. Then choose the one that best fits your needs and budget.

While some project management apps may have all the bells and whistles, if they don't fit with your workflow or integrate with other tools you use, they won't be effective.

We hope this guide is helpful in helping you choose the best project management software for your coaching business.

If you want to learn more about our virtual assistant services for coaches, don't hesitate to contact us. We'd be more than happy to answer any questions you may have and discuss how we can help you streamline your coaching business.
Share this image on Pinterest