Everyone loves a social butterfly, and that's why generating leads with social media works. As a coach you know the importance of bringing in new leads to keep your coaching business growing - but how do you generate leads with social media that actually convert?

The good news is that there are several strategies that you can use - so keep reading to find out how!

In this post, you'll learn about:
How to get hundreds of warm, qualified leads using social media.
The mistakes that may be sabotaging your social media lead generation strategy.
How an appointment setter can help streamline the process.

How to Use Social Media to Get Clients for Your Coaching Business

Rather than throwing your hands up and thinking that lead generation is an exercise in futility, you might just need to consider changing your strategy. You'll have better luck by switching from your current lead generation strategies to the ones listed here.

Organic leads:

You can start building a community of organic leads by having a social media presence with high engagement. This requires you to be consistent in pushing out content that is relevant and valuable to your audience.

Organic leads are a profitable way to grow and scale a coaching business because the leads are already interested in what you're offering. Once they start interacting with your content, it's easy to nurture them into becoming customers.

An effective strategy to acquire organic leads is to post valuable content at least three times a week and engage with your followers to build relationships.

Include strategic calls-to-action (CTAs) in your content. These CTAs can be used to encourage likes, comments, and shares that will further spread the reach of your message.

And finally, be sure to link back to your website, landing pages and blog posts to increase their level of engagement.

When you create content that adds value and offers free advice and resources to those considering your services, you build trust and credibility with potential leads


Facebook groups

Facebook groups are valuable because they bring like-minded people together. People who are interested in coaching are looking for ways to improve themselves and their lives. They like getting in on the buzz with other people who are looking for the same thing.

You can start by joining related Facebook groups and engaging with people in your target audience. You can post helpful advice, answer questions, and even offer free coaching sessions or consultations to interested members of the group.

By offering something for free, you're establishing yourself as an expert and building trust with potential coaching clients.

You can also create your own Facebook group for your coaching business. This is an ideal way to build a community of qualified leads who can support each other and learn from you as well.

Once the group is established, use it to offer free advice, webinars, resources, lead magnets, and actionable tips that will help people make decisions about whether or not they should sign up for your services.


LinkedIn

LinkedIn is the go-to platform for career advice and networking opportunities. As a coach, you should take advantage of this platform to reach potential leads.

Many coaches overlook the value of using LinkedIn for generating leads but the truth is that it's a great platform for connecting with potential clients.

Start by optimizing your profile page to ensure that it accurately reflects who you are, the services you offer, and why people should work with you.

From there, join relevant groups and start conversations with potential leads. It's also important to post regularly, share helpful content, and respond to comments and questions.
Share this image on Pinterest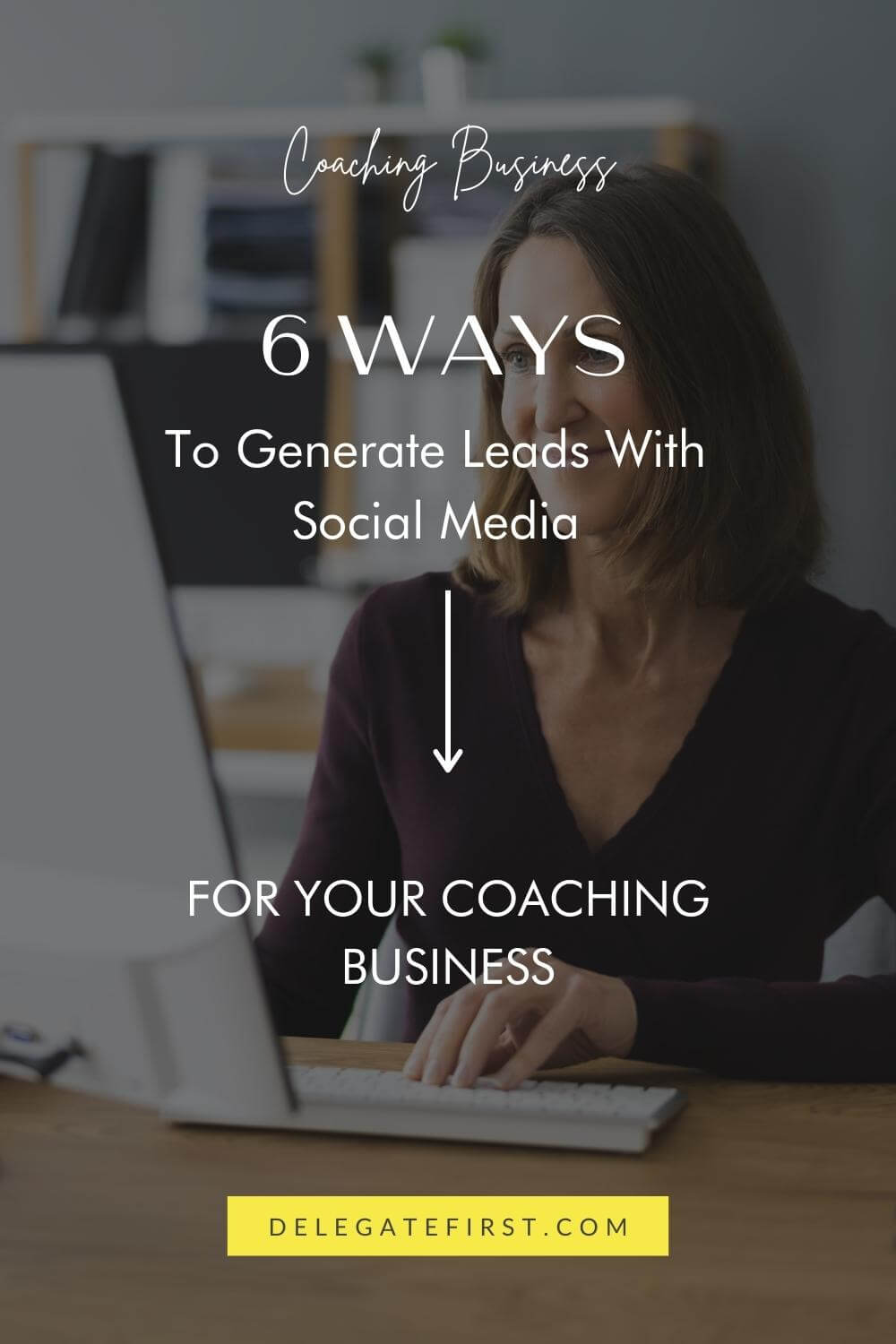 Hire an appointment setter

Hiring an appointment setter is a great way to make sure that your lead generation efforts are running smoothly. Appointment setters are people who contact potential clients through direct messages (DMs) and schedule meetings with them on your behalf.

Appointment setting can be tedious, but it's an effective way of ensuring that your outreach efforts don't go to waste. Appointment setters can help you manage your time more efficiently and ensure that you're connecting with qualified leads.

By leveraging an appointment setter, you'll be able to quickly expand your reach and make more meaningful connections with potential leads who are looking for what you offer.


Guesting on Live Streams

Live streaming is a great way to connect with potential leads in real-time.

You can be a guest on other people's live streams or even host your own. When you are a guest on other people's shows, those who have audiences similar to yours, you get instant exposure and the chance to build relationships with qualified leads who are interested in what you have to offer.

When you host your own streams, focus on creating relevant content that adds value and provides helpful advice. Provide insights, give away free resources, and answer questions to engage with potential clients in real-time.


Social media ads

Social media ads are a great way to find qualified leads. Targeted ads allow you to reach the right people with targeted messaging and tailor your content to fit their interests and needs.

You can use social media ads to promote your coaching services, run special offers, or even send people directly to your website or sales page. This type of advertising allows you to get in front of potential leads quickly and efficiently.

Russ Ruffino, a top lead generation expert and business coach, is a firm believer in running social media ads. The best method that he has found to attract high ticket clients is to run ads on social media. This includes Facebook, Instagram, YouTube, and even TikTok.
---
The idea is to drive traffic from those platforms into a 20-minute presentation which could be a video or automated webinar. During this time, offer advice, answer questions, and even provide free coaching sessions or resources.

When you build a relationship with people and provide them with value, your leads will be more likely to book a call or schedule an appointment with you.


Maximizing Your Social Media Lead Generation: Avoid These 21 Common Mistakes

Social media can be the greatest thing since sliced bread when you leverage it to find leads the right way. On the flip side, taking the wrong approach to it can leave you with lackluster results (or no results at all).
Here are the mistakes that could hinder your social media lead generation strategies and what you can do to prevent them:


Spamming leads
Be careful not to send out so many unsolicited messages that a prospect views them as spam. Prospects like to be nurtured. Spam is a turn-off.

Speaking about your brand with every interaction
You will quickly annoy new leads if you do nothing but continually promote your brand. The key is to engage leads while creating awareness of your brand. Find the balance.


Failing to make your CTAs not bold enough
Make sure you have a CTA on every landing page and display it prominently. Once you've garnered a lead's interest, lead them easily to a place where they can take action. This applies to organic leads and paid ads.


Putting out too few paid ads or none at all
Organic reach is great if you're lucky enough to achieve it. Paid ads are the surefire way to put your message out there and generate leads. You don't need to go crazy with them, but you should have a combination of organic and paid social media campaigns to maximize your lead generation potential.



Not placing enough attention on acquiring organic leads
Remember that organic leads are warm leads. If someone is searching for a topic and finds your coaching business, there will be little cost in engaging them further.

Using the same approach for every offer
All the time you spend nurturing prospects is valuable as it gives you a chance to understand what they are receptive to. For example, some leads will be more likely to sign up for your group coaching session, while others prefer one on one coaching sessions. Meet them where they are.


Assuming you know what their pain points are
While you may know what some of the common pain points are, don't assume that you know what each individual lead needs. Take the time to establish a dialogue and ask them specific questions to better understand their needs.

An appointment setter is a valuable resource for getting better acquainted with a prospect's needs, as is knowing the right time to book an appointment.


Failing to offer unique content for different stages of the buyer's journey
As your prospects get further down the sales funnel, you have more opportunities to tell them how coaching can enrich their lives. Early stages of the funnel should focus on relationship-building while later stages should focus on motivating them to register for sessions.

Sending too many contact requests on social media
This mistake could get you blocked on a platform making it even more difficult to generate leads with social media.

Remember, social media marketing is about building relationships. Don't rush it. Take your time and send out friend requests only when appropriate.


Putting off engaging with followers
A prospect that takes the time to post or comment may check back to see if you responded. Don't disappoint them by not responding.


Not tracking your leads through the sales pipeline
By not having a process for tracking leads, the hard work you've done to acquire leads will be wasted. You will lose leads that could have been converted. Keep engaging with leads to learn where they are in the sales pipeline and follow them through to conversion.


Not having an attraction system
Having a process in place to attract leads is a must. It might include sending out email blasts, hosting webinars, creating content, or engaging on social media. You must have an attraction system in place if you want your social media lead generation efforts to be effective.


Failing to fix broken links
There's nothing more frustrating for a potential customer than clicking on a link and then seeing the dreaded 404 message. Check your sites periodically to make sure your links work and your videos will play without incident.


Not providing value
If you're not giving potential leads something of value, why should they take the time to listen to what you have to say? Give them something that is genuinely helpful and useful, whether it's a free trial or an eBook.


Not measuring results
Never assume that a particular strategy is working just because you're seeing some success. Track your key metrics and measure the results of your campaigns so that you can optimize for better performance.


Failing to personalize messages
A generic message isn't going to cut it. Speak directly to the person you're trying to reach and make an effort to personalize your message.


Making your social channels private
A public account allows prospects to get a better feel for who you are, what you do and how you're different from the competition. Don't forget your "About Me" page on each social media platform, too.

Posting too much or too little
Finding the right balance between posting too much and not enough is key. Experiment with different types of content, post frequency, and timing.


Not following up
Following up with leads is an important part of the social media lead generation process. Do not miss out on opportunities due to lack of follow-up and nurturing. An appointment setter can help you with this process.


Failing with an unclear message
You need to make sure that your message resonates with the right target audience. If it doesn't, they won't take action. When you have a clear message, you can be sure that the leads you attract are ideal for your programs.


Not communicating with your appointment setter
Your appointment setter should have a clear understanding of who you consider to be a qualified lead.

Establishing this communication upfront is important for the success of your social media lead generation process. Be sure to provide them with information on the ideal customer profile and what types of clients you're looking for.
Also, be sure to share any insight you have on your prospects. This will help your appointment setter craft better messages and develop effective strategies for engaging potential customers.

Social media marketing for business purposes relies on the connection between algorithms and engagement levels. The greater you can improve engagement with social media leads, the higher up your coaching business will appear on the search engines.

Social media posts can give you greater visibility across the board because they give leads more opportunities to get to know you as a coach and what your coaching business can offer them.

Are you ready to take your social media lead generation game up a notch? An appointment setter from Delegate First is eager to help.

Visit our virtual assistant for coaches page to learn more about how an appointment setter can help you get more qualified leads that are interested in your offer.
Share this image on Pinterest