When it comes to getting customers, you might have already tried several methods in your sales funnel. However, if you have been wondering how to get clients on LinkedIn, then you have come to the right place.

With over 800 million users, LinkedIn is not only a social media platform that connects employers with employees, but also a great source of leads for business coaches, consultants, and other professionals.

In this blog post, we will explore not only how to use LinkedIn for professional networking and lead generation, but also how you should make your profile attractive to search engines.
---
How to find clients on LinkedIn for your coaching business


1. Make your LinkedIn profile as professional as possible

Your LinkedIn profile is the first thing a potential customer will see when searching for you. So, make sure to keep it clean, up to date and attractive.
Here are some tips to help you optimize it in a few simple steps.

Customize your profile URL

LinkedIn gives you the chance to customize your profile URL and make it easier for people to find your LinkedIn page. Make sure it's short and descriptive so that customers can remember it easily.

Here's how you can customize your profile URL:
1. Click on "View profile" (where your photo is)
2. Click on "Edit your custom URL".
◦ You will be redirected to the public profile settings.

---
---
3. On the right you will see the option to edit your URL as shown in the following image:

---
4. You can write your new public URL there.
5. After that, you must click on the Save button.

---
Make sure your profile photo and header image look good

Your profile picture is the first thing people see when they land on your LinkedIn profile. Use a professional-looking but friendly photo of yourself, not your brand logo.


Customize the header image:
Make the most of this space. You can use it to place a phrase of yours using your brand colors, as Simon Sinek does.
---
---
---
As you can see, they both maintain visual coherence with their branding, so it also helps brand recognition. It could also be used to let people know how to get one of your lead magnets.
Make sure you use the right keywords

Now that you have a good profile photo and header image, it's time to make sure your profile is optimized for search engines.

To do this, you should use the right keywords throughout your profile (in the title, abstract, current experience, skills, achievements, interests, etc.). Use words related to your industry and services, as well as terms that people would use to search for what you offer.

It is important that you do not overuse keywords, because it is possible that your profile will not be found by people who are really interested, so look for the right keywords with which people usually search for information about your services.

You can also add keywords into your LinkedIn profile by creating articles related to them, either posts or using the "write article" section, which is great for boosting visibility not just on LinkedIn, but also on Google.

---
---
Use recommendations to build credibility

People tend to trust those who others have trusted in the past. That's why recommendations are so important. Ask people you've done business with to write a testimonial or recommendation for you on your LinkedIn profile, as it will make prospects more likely to contact you.
Use the "endorsement" section as a prospecting tool

Most people use the "endorsements" section of their profile to show what skills they have. However, you can also use it as a prospecting tool by endorsing others, especially those who you have identified as potential customers. By doing this, you can capture their attention and start a conversation.
Share this image on Pinterest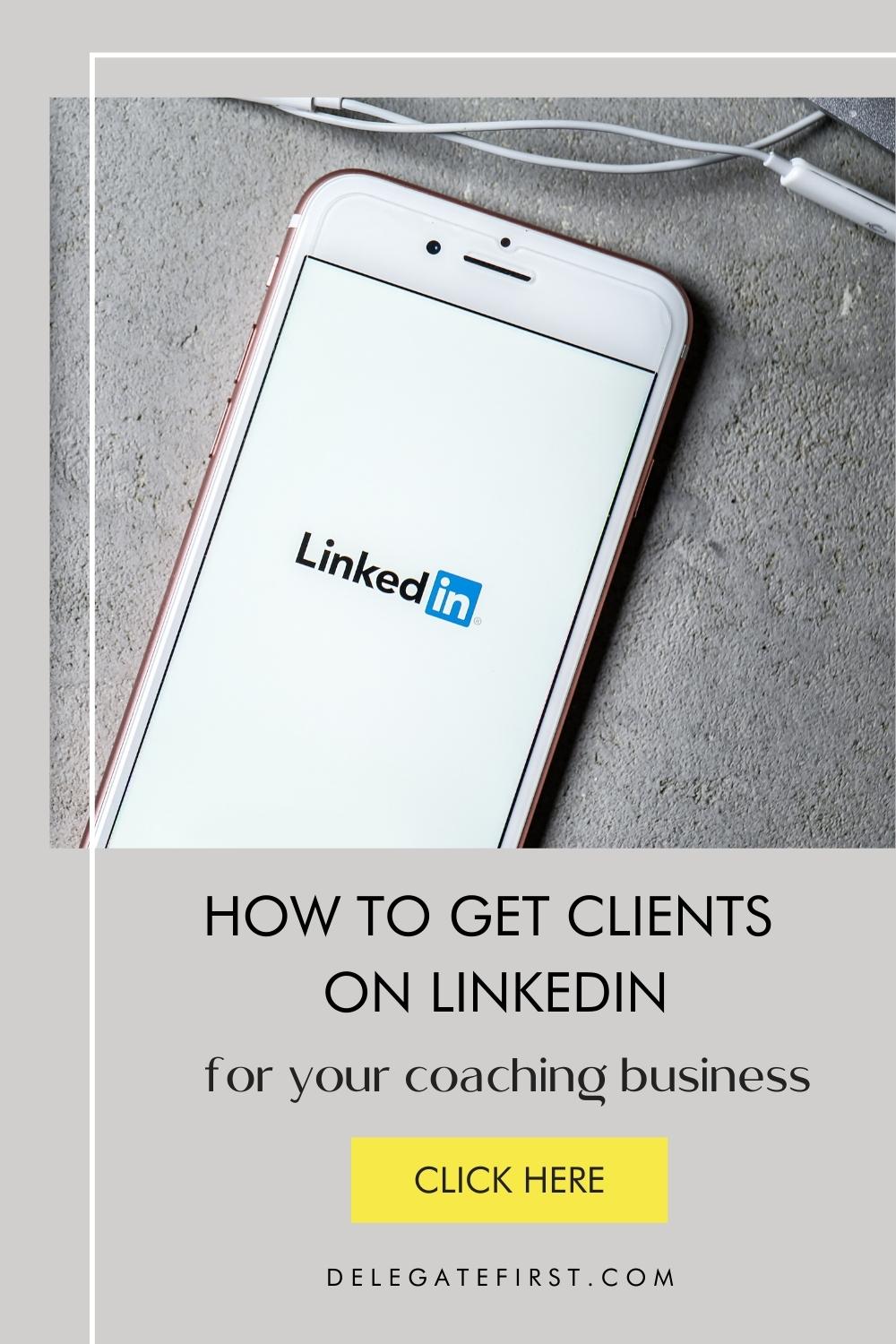 2. Build relationships and grow your network

When you join LinkedIn, you will have access to a powerful tool called the search engine. You can use it to find people with specific characteristics (job titles, companies, locations, etc.) that match your prospects and add them to your network.

Once you have identified potential customers or partners in your network, take the time to build relationships with them. In order to do this, you can follow the following steps:

Send direct messages with the connection requests,
do not leave the request blank
A message will give you a higher chance of being accepted.


Avoid sending mass messages, or you may be labeled as 'spam'
At the time of writing this post, you can send a maximum of 100 invitations per week, i.e., an average of 20 invitations per day.


Customize your invitations per connection request
Even if you're using a template, try to personalize the invitation by replacing the contact's name.


Be grateful when someone accepts you as a contact
This leaves a good first impression and allows you to continue a conversation by private message.


Create a plan and measure your efforts
You can do this in a simple spreadsheet to track which messages give you the best results. Consistently apply the steps above and spend an average of 30 minutes daily.


Be selective
Since LinkedIn limits the number of first-level connections to 30,000 contacts, it is recommended to be selective. After reaching 30,000 contacts, the default option on your profile will be only to Follow.

You must remove contacts to keep the amount below the limit to be able to accept or send new connection invitations. By now, you are allowed to follow as many people as you want.


Tap into LinkedIn groups
LinkedIn groups are ideal for discussing, sharing your insights, and expressing opinions that can help you position yourself as an expert and gain authority in your niche.

When you Join LinkedIn groups related to your target market, you can also share links to your business page with relevant information about your coaching programs or high-ticket offers.


Create your own group
Being the main moderator of a group is another way to show yourself as an expert in your area. However, remember that you must invest time in this, so if you choose this strategy, we recommend that you prepare yourself with a plan beforehand.
Keep in touch and be helpful
Comment on their posts, share useful content with them and answer any questions they may have. The more you engage with your contacts, the more likely it is that they will remember you and keep you in mind when they need a coach.




Every time you post,

reply to comments and messages within 12 hours
The key is to generate interactions during the first 90 minutes.
Make high-quality comments and contributions
According to a recent study of the LinkedIn algorithm in 2022 by Richard van der Bloom, it is not the best practice to be the first person commenting on a post. In fact, it is better to do it after others' comments.
---
---
On the other hand, regarding interactions, according to the study, LinkedIn's algorithm prefers that you work in the following order:
Comments
Share
Reaction or like.
Keep this in mind when interacting with the content of others.


3. Create engaging content

The creation of engaging and valuable content is highly recommended to get new clients on LinkedIn. This also allows you to position yourself as an experienced coach, gain visibility and grow your network of contacts. When you are constantly providing value, you are more likely to attract potential customers to work with.

Here are a few quick tips for engaging content:
Publish 1-3 posts per week.

Select 2 or 3 topics and include them in your content plan.

Tag up to 15 people per post.


Create valuable content for LinkedIn
It is recommended that the content you publish on your LinkedIn profile focuses on the audience of this platform, which is different from your website. However, if you have a very popular article on your website, you can post it on LinkedIn, but you should change it slightly.
Encourage interaction
Share ideas with your vision on industry-related topics and ask the community to exchange opinions. Keep in mind that the comments can help you position yourself as an expert and help you discover new topics.




Include images

Photographs, infographics, and images make reading more enjoyable and easier to understand. In addition, it can increase interest and participation.




Select different formats

Take advantage of the post types and content formats, such as documents/pdf, surveys, carousels, videos, newsletters, external links, texts, and photos.




Showcase your business from inside

Posts are also an opportunity to share your business behind the scenes to let your community and potential customers know how you work.




Create content about your high-ticket programs and certifications and how they transform people's lives

You can do this through posts, videos, and even supporting yourself with ads within LinkedIn. After this, more people will know about your premium offers.




Conclude with a call-to-action

It guides your potential clients on what to do next. This also helps you to move your prospect down the sales funnel. For example, ask them to check out your website or join a webinar you are hosting.

4. Review your statistics

LinkedIn provides you with great analytics to help you understand how your efforts are paying off. Check regularly the statistics of your posts and make sure that you are reaching the right people. Also, review your profile visits and see which ones have turned into leads.

---
---


5. Prospecting customers

When we talk about leads, we usually refer to that potential client who has shown interest in your services. Either because they are on your subscriber list because they have downloaded one of your free resources or because they attended one of your webinars.

But when we talk about prospects, we usually mean qualified leads that meet those requirements for being your ideal clients. They are people who have money to buy your programs, need your services, and are usually receptive to a little more direct communication, and it is precisely these people that we will talk about in this section.

Unless you want to dedicate between 2 and 3 hours daily to LinkedIn prospecting, you will need to hire someone to do this well.


5 Sales Prospecting Techniques That Work

Use LinkedIn InMail to reach out to your clients

This is a feature that allows you to send messages directly to people you are not connected with. It gives you an immediate way to make contact with potential clients and let them know about your services.

A good strategy is to start by offering free advice through these messages. This helps potential customers get to know you better and gain their trust.

If you have a basic (free) account, you must upgrade to a premium account to access the LinkedIn InMail feature.
---


Use Sales Navigator
Sales Navigator is a feature to make advanced filters that will allow you to create a list of potential leads. Based on this list, you can send strategic LinkedIn InMail messages. You can also set up alerts to follow up, add notes, and even export this database to a CSV file.
When you have a free LinkedIn account, there is a maximum of 300 searches per month. If you exceed this number, LinkedIn will notice that you are using this social network to recruit or get prospects.
Below we will show some examples of what could be considered as leads generation actions:
View many profiles that are not 1st-degree connections.

Search for companies and employees of a specific company.

Search outside your network (3rd-degree person searches).
When using Sales Navigator, there is no search limit, and you can establish filters according to any of the following categories:
Company

Title (past job title / current job title)

Profile language

Posted content.

And much more.
---

Work on a word-for-word script
In order to effectively communicate with prospects, you should have a script ready. Make sure that your script is tailored to the type of client you are targeting and has a friendly tone. Update your script as the conversations arise. This will help you to improve and fine-tune it according to your own results.


Use a good CRM system

Having a lead generation strategy will result in a significant number of new leads that need follow-up after the first week. The best way to keep track of them and make timely follow-ups will always be through a CRM system.

You can choose from many on the market, such as Pipedrive, Zoho CRM, and Flowchat. The most important thing is that before paying for any of these tools, you ensure that it fits your lead generation strategy.


Hire an appointment setter

An appointment setter is a person who will help you manage your LinkedIn messages by generating conversations with your prospects and leading them to schedule a call with you.

An appointment setter will work and adapt your script 100% to your strategy. Since this person will be answering messages and generating cold conversations with prospects using your LinkedIn account, it is essential that they clearly understand your business and strategies. They cannot reply to messages without being sure it is something you would have said yourself.

On the other hand, an appointment setter will also have persuasion skills, which is why hiring a real person capable of generating empathy through a message will always be a better option than a bot.

---
---
We hope this article has clarified many of your concerns about the best way to get clients on LinkedIn.

At Delegate first, we specialize in appointment setting services and can guide you through this process to ensure that you get the best results. Learn more about how we can help by clicking here.


Share this image on Pinterest