If you're looking for virtual assistants to join your team, it's important you know what to ask during the interview. To get you started, we've put together a list of 10 key virtual assistant interview questions that you can use to help you make your choice.

Virtual assistants (VAs) are responsible for a variety of duties ranging from administrative tasks to customer service responsibilities, so it's essential to hire an individual with the necessary skills and experience that aligns well with your business goals.

So, let's take a look at the most important virtual assistant interview questions that you can use to make sure you hire the best virtual assistant for your needs.
Questions to Ask When Interviewing a Potential virtual assistant


1. What Are Your Areas of Expertise?

This question is important to understand the virtual assistant's knowledge and skill set. Make sure to ask for specific examples of tasks they have handled in the past.

Some virtual assistants may specialize in certain areas, such as bookkeeping or web design, so it is important to understand their background and experience.

Before hiring a virtual assistant, make sure you understand what tasks you are expecting them to complete. You can make a list of tasks you need help with and then ask the virtual assistant if they have experience with those specific areas.

Additionally, you might want to ask your virtual assistant candidate how many clients they have served in your field before and what kind of results they achieved. This information can help you determine if the virtual assistant is well-suited to your specific needs.


2. How do you manage your workload?

A virtual assistant needs to be able to multitask, handle multiple projects at once, and prioritize tasks in an efficient manner.

You can use this question to understand their time management skills when working on multiple projects, as well as whether they have a system in place for staying organized.

You might be looking for a virtual assistant who has experience using task management software such as Monday, ClickUp, Notion, TodoIst, Asana or Trello, so you can discuss this during the interview.

3. What is your time zone and what are your availability hours?

During the job interview, it is important to ask questions about the virtual assistant's time zone and availability.

Working remotely has its challenges, and one of them is making sure everyone is on the same page when it comes to availability. You need to make sure that they are available to work when you need them, so it is best to discuss their working hours upfront.



4. What methods do you prefer for communication?

This is an important question to ask in order to make sure that you can communicate effectively with your virtual assistant: Do they prefer email, Slack, Voxer, or other methods of communication?

Having a virtual assistant that is comfortable using the same communication methods as you will help ensure a smooth and successful working relationship.



5. How does the process work?

Once you have found the virtual assistant that fits your needs, discuss the process of managing your work relationship. This includes understanding project milestones, payment arrangements, and any other topics regarding the professional relationship between you and your virtual assistant.

Some virtual assistants have their own client onboarding process that they follow while others may be more flexible. Discussing this in advance will help ensure a smooth and successful working relationship.



6. As a virtual assistant, what services are not within your scope?

It is important to understand the virtual assistant's limitations and what types of tasks they are not comfortable with or not able to do. This will help you avoid any misunderstanding down the line.

For example, if you are looking for a virtual assistant to help with your website, they may not be comfortable doing web design work.


7. What tools do you use in your work? What are some of your favorites?

This is a great question to ask in order to understand the virtual assistant's level of technical proficiency. Are they familiar with popular project management software or other tools that you use? Are they open to learning new tools or technologies that you use?

They also may be able to bring additional tools to the table that could help you streamline your workflow. If you're a business coach and you need help with client onboarding, for example, the virtual assistant might suggest using specific software to manage the process.
Share this image on Pinterest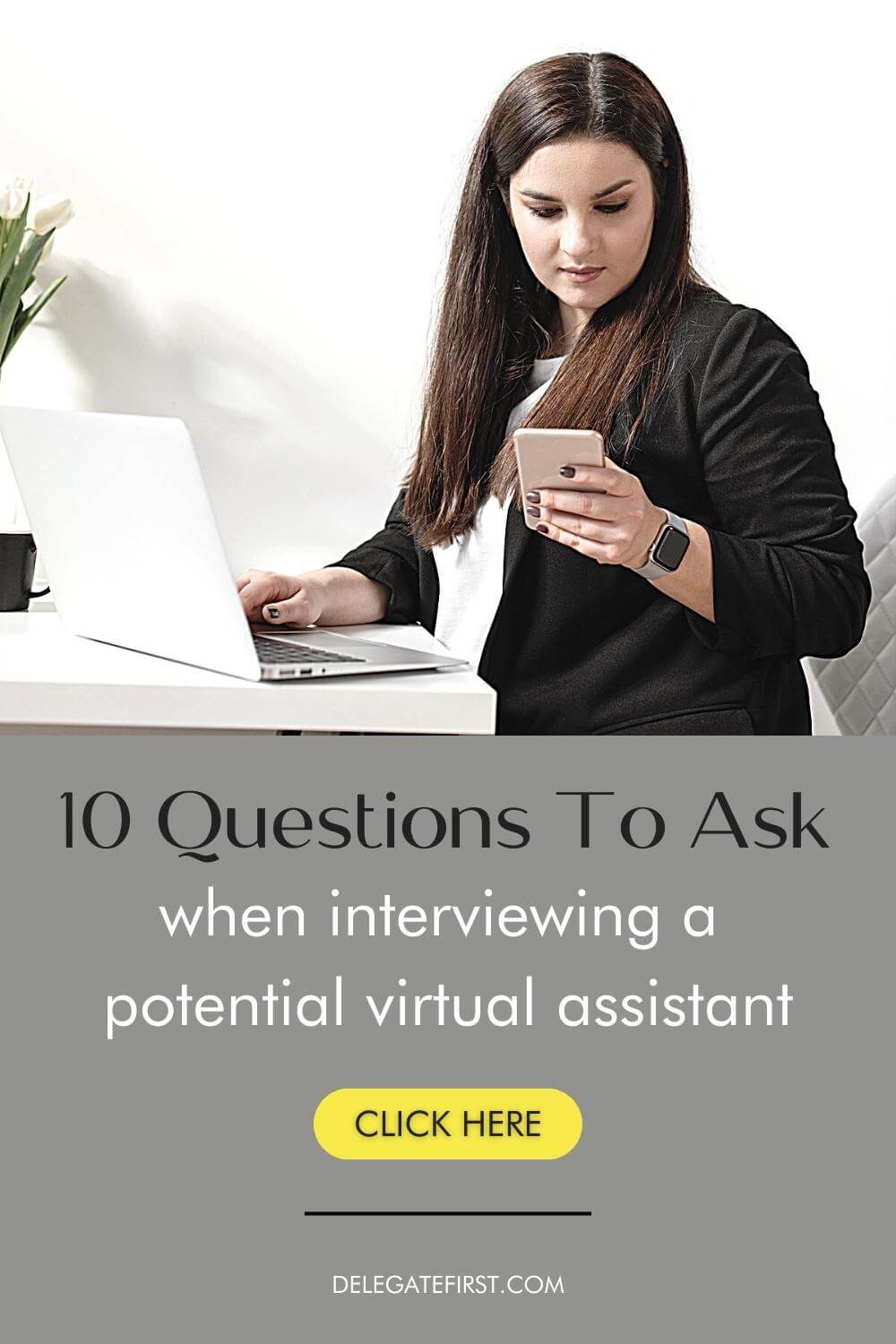 8. What are you most interested in learning more about?

Whether it's a new software program, a marketing strategy, or something else entirely, continuous learning is one of the most important parts of being an excellent virtual assistant.

By including this in your virtual assistant interview questions, you will be able to understand the virtual assistant's motivation for joining your team.

Understanding their motivations and interests can also help you determine if they are the right fit for your team. If the virtual assistant is interested in helping with your podcast but doesn't have any experience, you might be able to provide them with the resources they need in order to learn and help you out.

This is also a great way to get to know your virtual assistant on a more personal level, as well. It's important for virtual assistants to feel comfortable with the team they are working with and understanding their interests can help foster that relationship.



9. Are you able to help with strategy?

It is possible that you will need help with more than just tasks, and you will want to discuss how the virtual assistant can contribute to the overall strategy for your business and projects.

Some virtual assistants have a background in marketing or business, which can be incredibly helpful for formulating a strategy and helping to implement it. Other virtual assistants may not have that background but have worked for enough businesses to know how different strategies can be successful.

On the other hand, sometimes you might need your virtual assistant to work in close collaboration with other team members to achieve your goals. In that case, it's important to ensure that your virtual assistant has strong communication skills and is able to work well with a team player.

Working as part of a team is essential for successful execution of any strategy. So make sure the other team members are comfortable working alongside your virtual assistant as they will likely be integral to the success of your project.

Disclaimer: This article has affiliate links which means we may receive a small commission at no extra cost to you if you decide to purchase through our links.


10. Do you have any questions for me?

This might be a simple question, but it is an important one to ask. A virtual assistant that has questions for you shows that they have taken the time to understand your business and are truly interested in the role.

This question also provides a great opportunity for them to find out more information about the specific details of the job and the type of work they will be doing.

Using these virtual assistant interview questions can help you find the perfect virtual assistant for your team. Understanding their motivations, technical proficiency and availability will ensure that your virtual assistant is able to hit the ground running and provide you with the help that you need.

If you need help finding an experienced virtual assistant for your coaching business, Delegate First is here to help. We specialize in providing premium virtual assistant services for business coaches so you can focus on doing what you do best on your business growth. Learn more about our virtual assistant services for coaches and contact us today.

Happy interviewing! 🙂

Was this helpful? Pin it for later!