Remote accounting is the process of keeping your financial records and performing necessary accounting tasks from anywhere in the world. Not having to be physically present saves time, money, and energy for those who may not have the resources to hire an in-house accountant.

Remote access software allows an accountant to work on a client's financials from any location with ease, making this service an ideal solution for those who need remote access to their financials.

This type of accounting offers great flexibility, allowing business owners to have more control over their finances and get the help they need without having to worry about making space or hiring an in-house accountant.
With remote accounting, you can save money while still getting professional assistance with your financials.


What are the duties of remote bookkeeping?
Remote bookkeeping involves a variety of tasks, including keeping track of financial transactions, preparing reports and managing accounts receivable and payable. It also includes analyzing current and past financial data to ensure that all records are accurate and up-to-date.

This type of accounting requires great attention to detail in order to produce accurate reports, analyze trends, synthesize data and provide expert advice.

Remote bookkeeping also requires a deep knowledge of accounting principles, including double-entry bookkeeping, taxation rules and regulations.

Overall, remote bookkeeping is an important part of managing financials efficiently and accurately, making it invaluable for those looking to get the most out of their finances.


What does a remote bookkeeper do?
A remote bookkeeper can provide a number of services to help small business owners with their finances.

This can include helping businesses keep track of their income and expenses, reconcile bank statements, and prepare financial reports. They can also help with budgeting and forecasting, and provide advice on how to improve business financial management.

Remote bookkeepers can also provide virtual assistant services, such as scheduling appointments and managing customer contact information. This can be a valuable service for small businesses that don't have the time or resources to handle these tasks themselves.

Outsourcing bookkeeping services can be a great way to free up time so that small business owners can focus on other aspects of their business. It can also help businesses save money on labor costs.
Can a bookkeeper work remotely?
Yes, a bookkeeper can work remotely. In fact, more and more small businesses are turning to remote bookkeeping services due to the cost savings and convenience they offer.
Remote bookkeepers can provide the same services as an in-person bookkeeper and have access to the same technology and data.

This means that they can help businesses with their finances from any location, which is especially beneficial for businesses with multiple locations or those that are located in different areas.

Remote bookkeepers can also provide additional services such as virtual assistant services. This can be a great way to get the help you need without having to hire another employee.

One of the great things about working with a virtual bookkeeper is that they can usually offer more flexible hours than an in-person bookkeeper. This can be really helpful if you have a busy schedule or need to meet with your bookkeeper outside of normal business hours.

If you're considering working with a remote bookkeeper, be sure to ask about their experience and whether they're familiar with the online accounting software you use or are planning to use.

You'll also want to make sure that they're comfortable working remotely and that they understand your business's financial needs.
Share this image on Pinterest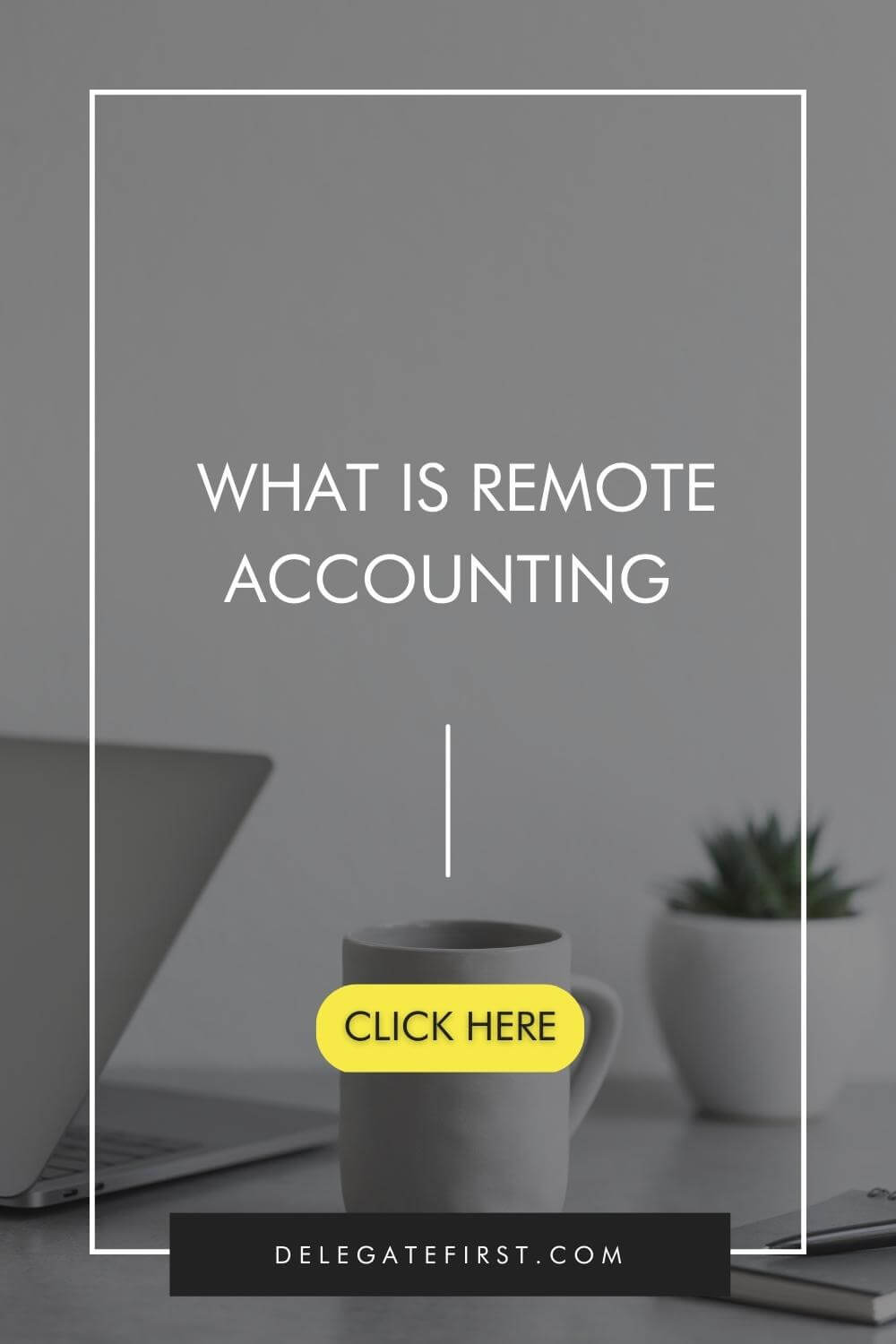 How do you know if you need a bookkeeper?
If you run a small business, there are a few signs that may indicate that it's time to hire a bookkeeper. For example, if you're struggling to keep up with your financial records or if you're consistently missing deadlines, it may be time to outsource this task.

Other signs that you may need to hire a bookkeeper include if you're spending too much time on administrative tasks, if you're not sure how to properly file your taxes, or if you're not comfortable dealing with financial matters.

If you can relate to any of these situations, then you may want to consider hiring a bookkeeper.
What is the difference between a virtual bookkeeper and a remote accountant?

The main difference between a bookkeeper and an accountant is that an accountant has more training and education in accounting and finance.

An accountant will usually have a degree or certification in accounting and can advise businesses on financial matters. A bookkeeper generally provides more basic services, such as maintaining financial records and preparing reports.

While both bookkeepers and accountants can provide valuable services to businesses, it's important to choose the professional that is best suited to meet your specific needs.

If you're not sure which type of professional would be a good fit for your business, it's a good idea to speak with both an accountant and a bookkeeper to get their recommendations. (Feel free to contact us if you need help with this)
Is a bookkeeper cheaper than an accountant?
Generally speaking, bookkeepers tend to be less expensive than accountants.
This is because bookkeepers focus on the day-to-day transactions and records, while accountants are responsible for more complex financial tasks such as preparing financial statements and providing tax advice.

Bookkeepers will typically charge an hourly rate or a flat fee depending on the services they provide, while accountants may charge a higher fee based on the complexity of their tasks.
If you're looking for help with your finances but don't need an accountant, then a bookkeeper may be the right choice for you.

Some accounting firms may offer both bookkeeping and remote accounting services, so be sure to ask what they can provide before making a decision.
Which online accounting software is best?
There is no one-size-fits-all answer to this question, as the best accounting software for your business will depend on a number of factors, including the size and nature of your business, your bookkeeping needs, and your budget.
However, there are a few general tips that can help you choose the right accounting software for your business:


- First, consider the size of your business and your bookkeeping needs
If you have a small business with simple bookkeeping needs, you may not need a complex accounting software package. On the other hand, if you have a large business or complex bookkeeping needs, you'll need an accounting software package that can handle those needs.


- Second, consider your budget.
The range of accounting software packages is wide, from free options to very expensive enterprise packages. Choose the package that fits your budget and your bookkeeping needs.


- Third, make sure the accounting software you choose is compatible with your other business software.
- Finally, take some time to try out the software before you commit to it.
Many accounting software packages offer free trials, so you can test out the features and see if it's a good fit for your business. Once you've found the right accounting software, you can start taking advantage of its features to help streamline your bookkeeping processes.
What is the easiest accounting system to use?
There are a few accounting systems that are generally considered to be easier to use than others. For businesses with limited bookkeeping experience or budget, cloud-based accounting software like FreshBooks or Wave Accounting may be a good option.

These programs are designed to be user-friendly and offer a wide range of features to help you manage your financial information.

For businesses with more complex bookkeeping needs, an online accounting system like Xero or QuickBooks Online may be a better fit. These programs offer a more comprehensive set of features and allow you to connect with bookkeepers or accountants for assistance.

Ultimately, the best accounting system will be one that meets your needs and lets you manage your finances effectively. If you don't know which system is right for you, consult with an accountant or bookkeeper for recommendations. Feel free to contact us if you need help with this.
P.S. This article has affiliate links which means we may receive a small commission at no extra cost to you if you decide to purchase through our links.
Remote Accounting: The Benefits of Hiring a Virtual Accountant for Your Business
Hiring a virtual accountant to manage your business's finances can be an excellent way to save time and money. With remote accounting, you have access to experienced professionals without the overhead of having them on-site in your office.
The advantages of hiring a virtual accountant include:
Cost savings

:

Hiring an in-house accountant can be expensive, but a virtual accountant can often offer the same services without the added overheads.

Flexibility

:

A virtual accountant can work with you remotely and on your schedule, so you have more flexibility when it comes to managing your finances.

Expertise

:

Virtual accountants have a wealth of experience and knowledge that can help you make more informed financial decisions. If you're looking for an experienced professional to manage your business's finances, hiring a virtual accountant may be the right choice for you. Be sure to ask potential candidates about their qualifications and experience, as well as what services they can provide.

Peace of Mind

:

When you hire a virtual accountant, you can rest assured that your financial information is in good hands. This can give you peace of mind and allow you to focus on other aspects of running your business without worrying about bookkeeping or accounting tasks.

Clear picture of your finances

:

A virtual accountant can help you gain a clear understanding of your business's financial health, and provide data-driven insights to help you make more informed decisions about how to manage your finances.
What is included in our virtual accounting services?
At Delegate First, our remote accounting services include everything you need to keep your business's finances in order.
We provide complete virtual bookkeeping and accounting services, including:
Monthly accounting

Bank/credit card account reconciliation

Financial statement preparation: balance sheet, profit and loss, cash flow

Financial records

Balance sheet reconciliation

Monthly trial balance

All of our remote accountants have college degrees in accounting and have been in the field for 15+ years.

Feel free to get in touch with us if you need help finding the right accounting system or hiring a virtual accountant/bookkeeper.
We're here to help and provide support every step of the way.
We look forward to helping you manage your business's finances!
Share this image on Pinterest